Last Updated on September 9, 2022 by Claire Dickey
The Future Nature collection has intuitive design details and integration with Afterpay.
Cash by Cash App has designed a new collection of apparel called Future Nature.
Whether you're looking for a way to add a special touch to your home or want to get ahead of the game for next year's holiday shopping, the collection includes more than 30 pieces for your next wardrobe makeover.
Available for purchase on the brand's website, all proceeds from the Future Nature collection will go towards Power Shift Network, a non-profit organization that is building the youth clean energy and climate movement.
Read This:
What This Article Will Cover
How It Matches the Theme ?
For this particular project, Cash by Cash App's design team decided to make pieces that are sustainable and sourced from recycled materials because it fits the brand's mission of using sustainable materials.
There are a variety of design details, including a clear Cash Card holder that speaks to the needs of the modern shopper, statement pieces like the "Giant Kelp Poncho," and more subdued looks that include less obvious patterns like a long shirt dress.
With a specific focus on the utility wear trend, the Future Nature collection is especially handy for Cash App users who are always reaching for their phones. Thoughtfully designed phone pockets make it easier than ever to carry around an iPhone, iPad or any other mobile device.
Whats New on Future Nature Collection:
The Future Nature collection also includes everyday essentials like the "Perennial Coverall," which is made from a midweight ripstop material.
The back of the shirt is emblazoned with the Cash by Cash App logo. It's puffed out with playful lettering.
Another unisex option inspired by these uniform styles is the "Infinite Coral Shirt" and the "Infinite Coral Chino Pants." These are made from a printed corduroy fabric, and each has a button front closure.
The Cash App collection will be available on May 1st. It's inspired by the "shapes, patterns, colors, and textures found in nature" with a few limited edition items that play with the concept of Bitcoin.
Where it is:
Located in the nexus of money, technology, and fashion, the Future Nature collection also includes an immersive digital experience that will help you learn about the new collection through fun activities and videos.
When visiting the Cash by Cash website, users can explore a nature wonderland where models pose in the clothes they're wearing.
The digital shopping experience also includes augmented reality. It provides a 360° view of the products available, allowing shoppers to have a sense of what it's like to wear them.
This experience is unique because it offers customers the ability to interact with the virtual collections and purchase products in just a few simple clicks.
Price:
The Future Nature collection, priced at $25 to $180, is now available to purchase through Cash by Cash App.
Future Nature is an app that enables you to buy from any of your favorite brands and then use Afterpay to pay for your order.
You can use the Cash App to purchase these items to receive 25% off your purchase.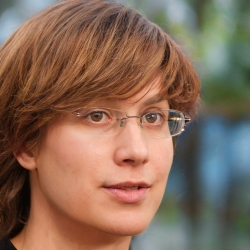 Latest posts by Claire Dickey
(see all)
Was this article helpful?