Let's Find out How To Send Messages with 28581 Cash App Text Number.
Have you ever wanted to send someone a text message but didn't know how to find their phone number? This might seem like a simple problem, but in the era of modern technology, it's easy to get lost in all ways we communicate.
The Cash App was designed with one thing in mind: making it easier for people to move money around. So, let's explore how to send messages using the Cash App.
Cash App is a digital payment app that lets you send and receive money quickly. Cash app users enjoy a lot of benefits using Cash App. At times Cash App sends its users a text from 28581. You might be wondering what this number is.
28581 is often used as a verification SMS number by Cash App to send you texts related to your account activity.
Let us know more about this number and how you can also get scammed through this number.
Recommended Reading: Cash app fee calculator
Does the Cash app send text messages?
Yes, if you are a user of Cash App, you might get updates about your account activity from time to time from Cash App. Cash App sends texts to its users about their account activities, new features, and other related information.
What is the 28581 number?
If you are a Cash App user, there might be times you receive a text from 28581. If you are wondering to whom this number belongs, this belongs to the Cash App. It has been registered with Square Cash since 2019.
If this number has been bugging you, and you do not want more texts from this number, you can stop this too.
If you wish to continue receiving notifications from this number, there is nothing you need to do.
Why am I receiving texts from Cash App?
28581 is often used as a verification SMS number by Cash App to send you texts related to your account activity. It makes sure you get all the updates and changes you make in your Cash App account.
Every time you sign in to your cash app account, you will receive a text from Cash App. They might also inform you about their new features, upcoming updates, password changes, and other information related to your account.
A typical text from Cash App looks like this: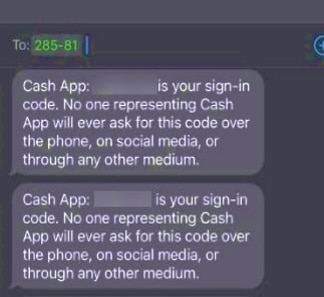 Sometimes, even if you are not a user of Cash App, you might receive texts from Cash App. It might be the case of a scam or somebody who typed your number by mistake while signing in.
Cash App never asks for our sign-in code. Hence, never share the code with anyone or, you could become the victim of fraud.
Recommended Reading: How to add money to cash app card at walmart
How to know if it is a scam text?
Cash app texts you about their new updates and features. Activities related to your account are not sent all the time. The cash app does not ask you anything about your account or sign-in code.
If you are receiving texts asking about your Cash App account, it might be a scam text. They will want to know about your account details. It can be your bank account details, your sign-in code, or your card details.
If this is happening with you, it is better to report the number to Cash app support and get help from them.
What to do if you receive texts from 28581 without a Cash App account?
If you are not a Cash App user and still receiving texts from this number, you might be in danger of fraud. Let the Cash App customer support know of this. You can contact them by visiting their official website and finding the contact option from the page.
You can also visit their Twitter id and send them a message about the matter.
How to stop texts from 28581?
If you are getting annoyed by the constant texts sent from Cash App, you get the option to block cash app texts.
Just text "STOP" to 28581 and, the texts will never bug you again.
Note it is better not to stop these notifications as they will keep you updated on your account activity. It can also save you from potential scams and unusual activity on your accounts.
Is 28581 a scam number?
Cash App's 28581 number is just a short code number to notify you about your account activities. It is a fair number used by the Cash app and not a scam number.
The number is not a scam number but sometimes can be hijacked by scammers. Then they can get access to your account or use your credentials for making a new account of your name. In this case, if you receive a sign-in code, never share it with anyone as it might lead to losing all your money.
Typically, you will receive texts from Cash App regarding your sing-in code, bank, and card details. If this information falls into the wrong hands, your account might get hacked.
If you are suspicious about texts from this number, it is best to contact Cash App customer support and let them know.
Related Topic: Is Cash App Safe to Use with Strangers
What if somebody from the Cash app is trying to contact me?
Cash App never calls its users directly. Therefore, never talk to anyone regarding your Cash App details on the phone. If someone claims to be a Cash app, it might be a potential scammer trying to get your account details and steal your money.
Remember, the Cash app does not have live customer support; they will never call you from their side. Make sure you never share your sign-in code or any details with anyone claiming to be Cash app. Cash App will never ask you for any such information.
How To Send Messages On Cash App?
Here are the steps which you can follow:
Open the Cash App app on your smartphone.
Tap on the Chat icon on the upper right-hand side. You'll now see an empty chat window.
Tap on the New Message icon on the bottom right-hand side. A menu with different options will appear. From here, you'll need to choose your location in order to send your message.
Tap on the location you want to send your message from. Tap "Send" when you're done selecting your location.
Your message should now be sent. If not, try the above process again.
Frequently Asked Questions: 28581 Cash App Text
How do I stop getting texts from Cash App?
If you believe you are receiving the text by accident or someone is trying to scam you, you should use the Prompt to stop receiving the messages. Once you send "STOP" to 28581, you will stop receiving the texts.
Will Cash App text you?
The Cash App also has several security measures that other money-transfer apps do not, including an AI-driven function that detects fraud, text messages informing customers of suspicious logins, and a request for confirmation from users before sending funds to someone who isn't on their contact list.
Why did I get a random code from Cash App?
You are given a one-time-use login code every time you sign in to your Cash App account. If you received an unsolicited sign-in code by email, we recommend changing your password and enabling two-factor authentication on the email account linked to your Cash App account.
In Conclusion: 28581 Cash App Text Number | Why Did I Get A Cash App Text Message
When sending messages on the cash app, the most important thing is to have a clear message and avoid talking about unrelated stuff. Don't talk about how much you like the cash app or how great the cash app is because that is not what the person on the other end is looking for.
To get the most out of your conversations on the cash app, you need to find the right balance between personal and business. Read more here